As simple as it gets...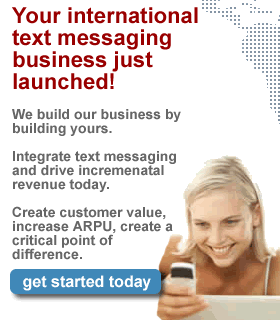 Welcome to Reseller SMS. It's difficult not have noticed the huge growth in text messaging over the last few years. The growth of mobile continues unabated worldwide. Mobile subscribers have reached 2.1 billion globally and SMS revenues are forecast at $50bn USD by 2010 driven by almost 2.38 trillion messages. So what does this mean for you?
If you want to reach out to your customers, members of your online community or simply provide a service that monetizes your user base, International SMS maybe for you.

It's a buisness in a box - to go. We'll show you how you this opportunity is:-
– Cash generative
– Easy to implement
– Low cost of entry
– An immediate ROI
– A significant branding opportunity

Reseller SMS provides you with an opportunity to offer your users the ability to send and receive text messages, to and from any phone, any where in the World. No other text messaging service is as far reaching, can offer two way SMS and can be branded as your own.

The benefits to your users are:

- the ability to communicate with their friends locally or internationally using your service
- the ability to send and receive text messages from any computer to any mobile phone on the planet
- a cost effective solution for their mobile messaging needs

To try out the service as a customer would experience your SMS service, simply signup here. You'll receieve three free credits to evaluate the service. You will see that every aspect of the application can be branded to suit your requirements very easily. You can even generate incremental revenue streams by carrying third party advertising.

To arrange a live demonstration that shows all the features you will have as a reseller signup here.